My Aunt Katy asked if I'd help her out creating a little somethin' somethin' to include in the annual
Fairy Festival for Willa's Workshop, Inc.
: a non-profit corporation formed in 2008. Its purpose and mission statement is to foster the spirit of creativity and generosity in children. Through Willa's Workshop, children meet throughout the summer months to create art, handicrafts, and other projects. All of the creations are saved for the annual Fairy Festival (this year on September 9th, 2011), where they are sold and the proceeds donated to charity. In addition to the sale of handicrafts, the Fairy Festival is a celebration of life and childhood. Children are encouraged to dress up and participate in the fairy-themed activities of the night. Each year, the proceeds of the Fairy Festival are donated to a different deserving foundation. Willa's Workshop was formed to celebrate the brief, spectacular life of Willa Tempest Jones who was born September 9, 2007 and passed away on September 13th 2007 from a large brain tumor.
Katy contacted me right around the time I made
pacifier clips for Fox
so I thought I could make girl versions (which I made some extras and have for sale in
my etsy shop
). Last night I finally put my fingers and sewing machine to work and this is what I came up with:
10 unique and beautiful girly pacifier clips. I used pink and white tulle, three different colors of rose ribbon, jewel beads, crocheted trim, pearl beaded lace, and more, to create each clip. Pacifier clips are great because they prevent paci's from falling on the ground and getting dirty when baby spits them out (and the dog running and grabbing it and chewing it to bits... yeah... live'n'learn...). Plus they're just a cute accessory!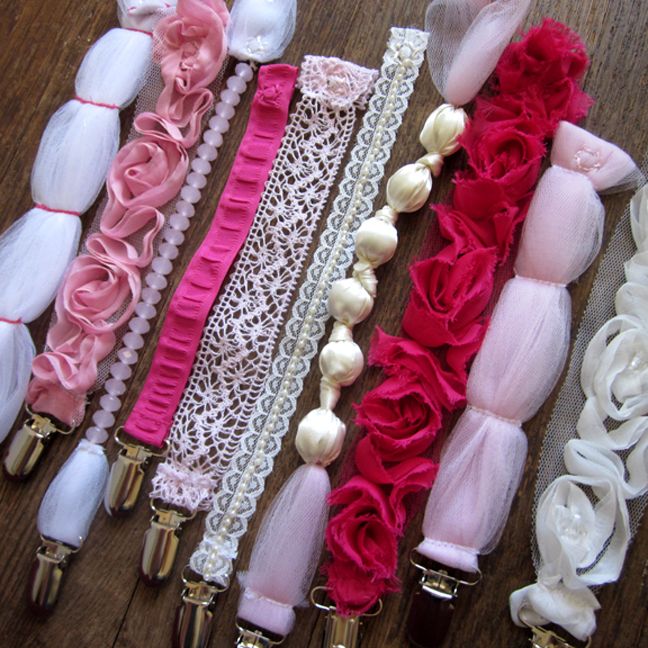 This year, the Fairy Festival will be on Friday September 9th at 6:00 PM so if you're in the Salt Lake City area be sure to check it out and help donate to a wonderful cause!
Check out
my etsy shop
for a bigger variety!